Our Second Opinion Service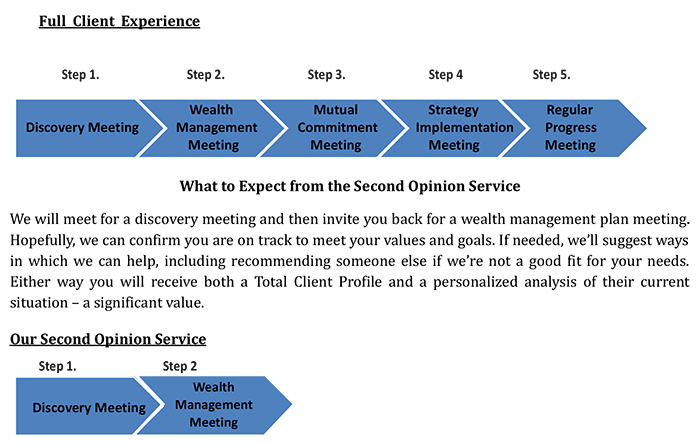 WE OFFER AN UNBIASED OBJECTIVE ASSESSMENT OF YOUR CURRENT WEALTH MANAGEMENT STRATEGY
Many of our clients report that some of the most significant people in their lives, not only care about their investments but share concerns about…
Protecting against potential creditors and litigants
Fulfilling their charitable intent
Preserving and growing wealth
Mitigating taxes
Ensuring their heirs are well cared for
…and question whether their current financial and investment plan effectively addresses these concerns.
Our Second Opinion Service provides an objective assessment of your current plan's ability to alleviate your concerns, achieve your objectives and provide peace of mind.
WHY IS A SECOND OPINION IMPORTANT?
Much like a patient might seek out a second opinion after a medical diagnosis, our Second Opinion Service can provide tremendous peace of mind as we work with you to determine if your current investment and financial plan is designed to achieve your objectives, protect your dignity and maintain your independence for life.
Our process provides an opportunity to take appropriate action now to avoid the consequences of inaction in the future.
AM I GETTING PRUDENT FINANCIAL ADVICE?
Financial advice is often obtained from advisors who work in silos without the necessary help and knowledge of a proficient, professional network.
Today's rapidly changing and volatile investment, political and economic environments require wealth management from investment fiduciaries working with a team of competent tax, legal and insurance professionals. Our Second Opinion Service and Wealth Management Consultative Process provide just that.
HOW DO I REQUEST A SECOND OPINION?
To Request a Second Opinion, call or email us today.